What is a Tinplate
Tinplate consists of sheets of steel coated with a thin layer of tin to impede rusting.
Brief history of Tinplate
Early in 14 century, Bohemia starts to produce Tinplate mainly for manufacturing table wares and cups. In 1800, British make tin cans for long-term preservation of food. In 1847, Americans invent tins manufacturing machines, since then, the need for tinplate starts to grow.
The Featuresof Tinplate
Tinplate has excellent corrosion resistance. Furthermore, it has splendid Weldability. Tinplate is suitable for processing, it is able to be painted and printed easily. Meanwhile, Tinplate food cans have superiorities in Hygienic, safe and eco-friendly.
The application of Tinplate
The tinplate can be used as raw material for manufacturing metal cans, including food cans, industrial cans, paint cans, aerosol cans, etc. It is also used for battery production.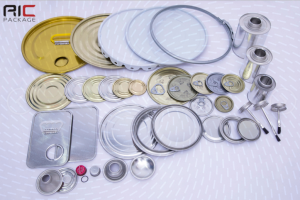 RIC Package produces variety of metal can components with top-quality Tinplate from Baosteel, a government steel mill in China. In addition, we also trade Tinplate or Tin Free Plate. RIC Package offers special customization, quality assurance and competitive price, aiming to provide better can components to whole world and improve the environment.