Assortment
Aerosol cans are available in aluminium or tinplate (tinplate steel). The range of aerosol tin can packaging by RIC Package is also these material. The form of the aerosol can be straight (straight sided) or 'necked in'. Necked in means that the aerosol slightly tapers towards the bottom. The straight sided aerosol is easy to label.
Nowadays it is possible the have the body of the aerosol shaped. From a marketing point of view it is even possible to develop your own specific form. So the body could have a rounded shape or maybe taper in the middle.
Advantages
The aerosol can components as packaging has advantages like: always ready for use, hygienic, well closed, easy to dose, economical and they can be stored for long periods of time. Because of their specific and precise way of spraying aerosols are easy to use. Aerosols are made out of tinplate steel and this makes them easy to recycle.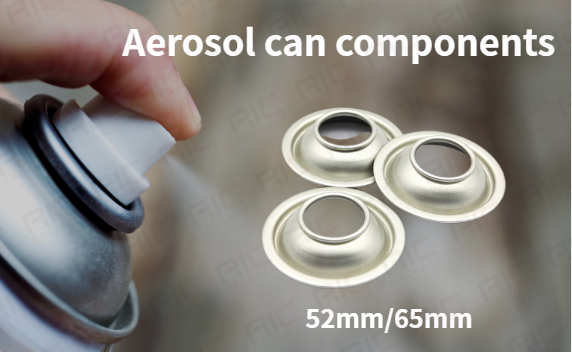 Market outlook
The Aerosol Cans Market is expected to exceed more than US$ 80.0 Billion by 2022 at a CAGR of 4% in the given forecast period. The aerosol cans market can be segmented on the basis of product type, material type, propellant type and end use. On the basis of product type, aerosol cans market can be segmented into straight wall aerosol cans, necked in aerosol cans and shaped aerosol cans. On the basis of material type, aerosol cans market can be segmented into steel, aluminum, plastic and glass, wherein, aluminum are gaining traction among consumers due to its lightweight for an increasing mobile society which gives aluminum cans an edge and provides an optimal solution for manufacturers due to its recyclable nature.