Today, the metal packaging industry has developed into a huge and wide-ranging industry. They permeate all aspects of our lives and can be seen everywhere, such as food cans, beverage cans, cylindrical cans, aerosol cans,drum cans and so on. And for canned food and canned beverages that are ubiquitous in any street supermarket. Easy Open Ends have undoubtedly played a crucial role in the process of making them. So let's learn why EOE play an important role in can making.
The introduction of EOE
Easy Open End,a kind of tin can lid made of Tinplete/TFS or Aluminum.It is commonly used in food and beverage packaging to seal the contents to ensure freshness and flavor. It is a lid that can be easily pulled open by fingers without using a can opener. It can be used for packaging of fruits and vegetables, dry goods, fish and meat, milk powder, etc., and has a wide range of applications. We offer 50~153mm diameter EOE with coating of Gold/Clear/White Lacquer, Organsol, Aluminum paste, BPA NI/BPA FREE, Printing etc.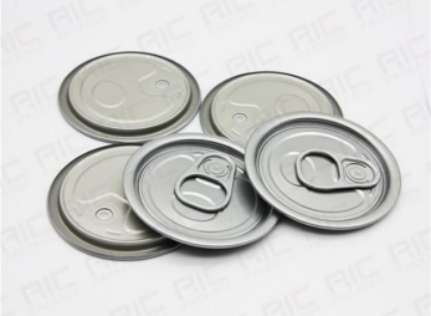 Benefits of choosing EOE for your packaging solution:
EOE can make your products easier to open for enhanced security.
EOE is environmentally friendly,has good resistance for water/pressure/chemical.
EOE can be customized with a variety of specifications and coatings to choose.
EOE has a fast production speed and 12 full automatic machine lines, which can provide high efficiency production.
Finding a good supplier is most important when selecting EOE
When you have requirements for EOE but you don't know which company to choose from. RIC PACKAGE CO.,LTD can be your best choice! We are a professional EOE supplier, with professional machines and strict quality control, and adhering to the customer-oriented business philosophy.
"Responsibility,Integrity,Creativity"is our name and spirit that drive us,we devote ourselves to better service in metal package industry. Our EOE can meet your various metal packaging needs, whether for food, beverages, dry goods or milk powder, etc.
So if you have any interests of EOE,can visit our website www.ricpackage.com and have a look. There you can see the products you need and have a comprehensive understanding of our production equipment. I think you will find what you want there~