It is a valuable product that protects the product placed in the metal can, ensures that it reaches you in the cleanest and most reliable conditions, and facilitates its transportation and storage.
Advantage of a Bottom ends:
Storage capabilities: Packaging products in metal containers can extend their shelf life. Canned food, for example, can last for years longer than comparable fresh food products. Since you can usually stack metal cans and containers, it's also easy to find storage space for your products when they are packaged in metal.
Durability: Some packaging materials break down over time. Paper, for example, will wear thin and is easily damaged by moisture. Plastics break down and become sticky as time goes on. Aluminum and steel are both considerably more durable than paper and plastic. Metal is made to last and to be used again and again. Coating the metal with a lining further enhances its durability.
Size range: Another reason you might use Bottom ends is that many different options are available to you.
Available in size 200/202/209/211/214/300/305/307/315/401/502/603.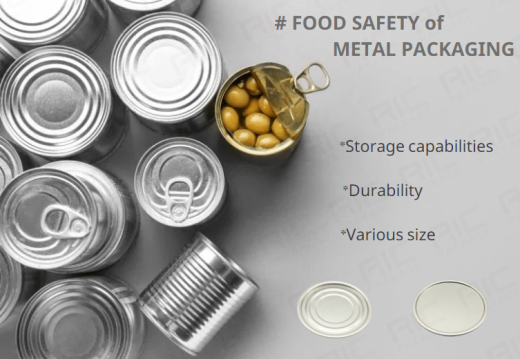 Today, the ability to give desired shapes to metal materials with modern production techniques and advanced machines, the development of Bottom ends, various outer surface designs, high durability and sealing feature are important factors in the preference of metal packaging.
Bottom ends CONTRIBUTES TO REDUCING FOOD WASTE AND SPOILAGE. There is no spoilage and loss due to contamination by other products.
Different sized of Bottom ends means consumers choose the size they need and throw less food away.
Different coating of Bottom ends like Clear/Gold/White/Aluminum/BPA NI, means bottom ends coating will be suitable for your different food usage.
At RIC PACKAGE, we production metal packaging, specialized in" safe, environmental, protection and metal packaging products research and development. And we offer a wide variety of Bottom ends. Get in contact with us today to talk about your metal packaging options.